EU Settlement dissaray and the brexit saga 
has been a perplexing and frustrating issue of the Brexit saga. Ongoing statements by Ministers that promise to deport those who do not apply before the deadline and other issues means that it may very well turn into another 'Windrush scandal' if certain matters are not addressed.
On Wednesday, MEP's expressed 'grave concern' about the scheme and called for the UK government to provide EU nationals with "a physical document as proof of their right to reside in the UK after the end of the transition period".
In a resolution backed by a heavy majority, EU lawmakers called on the UK and EU27 to adopt a "declaratory" system that would remove the risk of forced deportation. More on this later. First, let's set out the current state of Brexit.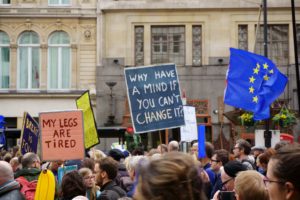 The Withdrawal Agreement
On 17th October 2019, Britain and the EU agreed a Brexit deal in principle, known as the Withdrawal Agreement which is not a trade deal but simply a document which sets out how the UK will leave the EU and dealing with the following:
The status of EU nationals living in the UK, and UK nationals living in the EU at the time of exit.
The transition period, whereby the UK will still be part of the EU trading bloc whilst a formal trade agreement is negotiated. This avoids the dreaded 'cliff-edge' whereby the UK leaves the EU on 31st January with no trade deal in place.
How Northern Ireland will be treated following Brexit. A backstop has been created to ensure that regardless of the outcome of any future trade deal, there will not be a border and customs checks on the island of Ireland. This is because a hard border between Northern Ireland (which is part of the UK) and the Republic of Ireland (which is an EU member state) may jeopardise the Good Friday agreement which ended decades of violence and hostility.
The financial settlement the UK must pay to the EU upon leaving. This is known as the 'divorce bill'.
Fishing rights. The document says: "The Union and the United Kingdom shall use their best endeavours to conclude and ratify 'an agreement' on access to waters and fishing opportunities."
The jurisdiction of the European Court of Justice during the transition period and the setting up of a joint UK-EU committee to deal with disputes related to the Withdrawal Agreement.
Although the EU and the British government agreed on a deal, British Prime Minister, Boris Johnson had to get it approved by Parliament. However, whilst Parliament granted preliminary approval to the Withdrawal Agreement, only 15 minutes later, MPs voted down legislation which would have paved the way for the Prime Minister to ensure Britain left the EU by 31 October 2019. Following from this defeat, instead of trying to push through the agreement, the Prime Minister successfully fought for and won a pre-Christmas election which means that the EU had granted an extension to 31 January 2020.
On January 9th January 2020 MP's finally gave their backing to the withdrawal bill. The latest vote gives approval to 11 months of transition period after 31 January, in which the UK will cease to be an EU member but will continue to follow its rules and contribute to its budget. The purpose of the transition period is to give time for the UK and EU to negotiate their future relationship, including a trade deal. Liberal Democrat Brexit spokesperson, Alistair Carmichael said his party would continue to oppose the "dangerous" bill.
"They have voted for a bill that will slash the rights of future generations to live and work across 27 other countries," he said.
"They have voted for a bill that strips away our guaranteed environmental protections, despite the fact that we are facing a climate emergency."
SNP Westminster leader Ian Blackford said Scotland would "remain an independent European country".
"This is a constitutional crisis, because we will not and we cannot accept what is being done to us," he told MPs.
EU Settlement  Dissaray and the Bexit Saga (Settlement Scheme)
The EU Settlement Scheme opened fully on 30 March 2019 and will remain live until 30 June 2021. EU/EEA nationals who have lived in the UK for five or more years can apply for Settled Status, which will confirm their right to live and work in the UK without visa restrictions. EU/EEA nationals who have been in the country for less than five years may apply for Pre-Settled Status. Applications for Settled Status and Pre-Settled Status can be made online.
Newspapers have reported many instances of Settled Status being mistakenly denied including prominent people of society and those that have been in the UK for a long time. Examples include: chef and cooking school owner, Richard Bertinet who was granted only Pre-Settled Status , despite having lived in Britain for over three decades, ( Mr Bertinet has since been granted Settled Status. ) Polish celebrity chef Damian Wawrzyniak , who has prepared banquets for the royal family and was a senior chef at the London 2012 Olympics and Paralympics.
Grave Concerns  for Securing Residency 
This treatment of EU citizens are a reason of grave concerns for vulnerable EU/EEA citizens, such as the elderly, disabled. Those who do not have payslips, may not apply or be apply and be denied Settled Status. To really disturb all concerned, the Home Office minister, Brandon Lewis told a German newspaper in October that EU/EEA nationals who did not apply for Settled Status before the deadline would be deported. This led to the Liberal Democrat's Home Affairs spokeswoman Christine Jardine said she was "absolutely appalled" by Brandon Lewis's deportation threat and she predicted "thousands" of people would be left undocumented by the "arbitrary" deadline.
It is imperative to secure residency status as soon as possible now and if you are having problems with your Settled Status or Pre-Settled Status application, or your application has been rejected, seek advice from an experienced immigration lawyer without delay.
Based in London, Piya Mayenin is a specialist in Immigration and Employment law and is a consultant solicitor in Taylor Rose TTKW, one of Britain's Top 200 leading law firms of 2020. If you have any concerns or questions regarding Brexit or the EU Settlement Scheme, please phone Piya on 07512810472 or contact via the contact form on this page.